Feed conversion efficiency is a major driver of lamb production profitability, and two NSW White Suffolk studs have been working to measure the breed's success in the feedlot.
Peter Jackson, of Coronga White Suffolks, Orange, NSW, and Alan and Ian Sharrock, Lachlan Valley White Suffolks, Forbes and Bribbaree, became interested in the feed conversion efficiency of their sheep, in the hope to improve genetic selection and help ram clients achieve maximum profitability.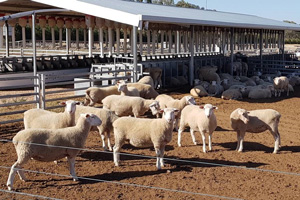 Coronga and Lachlan Valley have a combined 50 years of performance recording in the breeding of prime lamb sires.
"Whether lambs are grown on pasture or crop, or are fed supplements or lotfed; feed conversion efficiency is a major driver of lamb production profitability," Dr Jackson said.
"Feed conversion efficiency is a vital component of prime lamb profitability but it had not previously been individually measured in relation to genetic bloodlines."
The trial work was undertaken at Crown Agriculture's MASTERyard facility at Cudal under the supervision of Will MacSmith and Hamish Dickson, measuring, for the first time, individual weight gains, feed intake, time spent eating and the number of visits at feed stations per day.
All necessary health treatments were completed pre-entry to the feedlot and following a 14-day acclimation period the main trial period began.
As animals' daily liveweight can be captured at a feeding event the lambs were not handled again until the completion of the trial.
Each stud entered four sire groups of 2018-drop ewe lambs with one common sire group, providing seven different genetic groups for testing.
A hay-based pelleted ration was provided to achieve moderate growth rates to enable the genetic evaluation and assist in preparing the ewes for joining.
Dr Jackson said the trial was a first for Australia and would provide objective data on genetics and their influence in feed conversion.
Dr Sharrock said: "The results were extraordinary."
"We were able to identify the best sires and females for feed conversion efficiency, and the linkages between feed conversion efficiency and other traits measured by conventional Lambplan.
"The results showed feed conversion efficiency varied up to 40 per cent for groups from different sires.
"This variation will allow selection towards sheep with better feed conversion efficiency, enabling improved genetics to increase profitability of ram clients.
"Our sheep will, in the future, be genetically chosen to eat less and grow more.
"This trial shows that White Suffolks again lead the way in measured genetic improvement."