One southern NSW prime lamb flock has to be not only commercially profitable but also play a role in educating the next generation of Australian sheep producers.
The flock at the TAFE NSW Riverina Institute Primary Industries Centre, Wagga Wagga, turns off White Suffolk cross lambs at 25-26kg carcass weight, and comes under the intense gaze of hundreds of national and international agricultural students each year.
Although the primary aim of the Flockcare accredited sheep program is to be educational, it receives no government support and must be self-funding.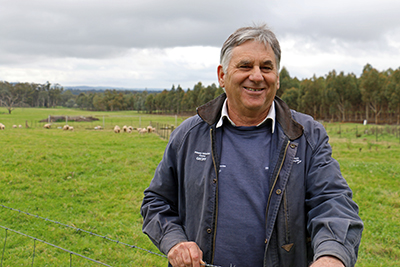 Farm manager Geoff Bromham checks the pasture quality for the ewes and lambs.
It caters for all levels of study, from Certificate II, III and IV to the Diploma and Advanced Diploma of Agriculture.
The institute has a total of 265ha of grazing country in several blocks, set in a 550mm rainfall zone.
Head agricultural teacher Graeme Anderson said a flock of 300 Border Leicester-Merino ewes was used to mimic regional commercial operations.
White Suffolk rams were chosen for their traits of easy lambing, quick maturity and market acceptability.
The ewes are joined in the first week of December for eight weeks to terminal sires.
The rams are selected on their liveweight, raw eye muscle scans, fat depth, body length and structural soundness.
Farm manager Geoff Bromham said the White Suffolks easy lambing trait meant the breed was ideal for use over maiden and older ewes.
"We like to select rams with a moderate frame but with length and loin,'' Mr Bromham said.
All ewes are placed on a rising plane of nutrition pre-joining, with the maiden ewes supplemented with pellets to ensure they reach condition score three.
They are run on either lucerne or phalaris and subclover pastures treated with conventional and biological fertilisers, and regularly soil tested.
The ewes are pregnancy scanned and split into single or multiple bearing.
"We use pregnancy scanning as a teaching exercise to make sure the ewes get the right amount of feed to suit their pregnancy status,'' Mr Anderson said.
"Pasture samples are taken monthly to test for protein and energy, and lambs weighed so feed supply can be matched with livestock nutritional requirements.
"Last year the lambs were gaining at more than 300 grams a day – we want to ensure they are ready for sale and receive no setbacks.
"We source high quality lucerne hay and make our own Arrowleaf clover hay – all hay coming onto the place is feed tested.''
Ewes are electronically tagged while all rams and a portion of ewes are blood typed to determine parentage of the off-spring.
The Pedigree Matchmaker system uses scanning technology to provide full pedigree information on lambs.
"At sale time, we can trace back to the mother and sire to identify the better performers for educational purposes,'' Mr Anderson said.
"If a commercial flock is stocking at maximum levels, you don't want to be keeping animals that are under performing.
"From an educational perspective, we have to look at everything in a ruthless manner and consider a sheep to be literally a feed factory.''
Last year, all ewes scanned at 134 per cent and marked 123 per cent lambs.
Mr Anderson said a minimum target was 120 per cent lambs marked.
"I have calculated it costs $50 to get a lamb to market year in-year out,'' he said.
"One of the things I keep telling my students is not to beat themselves up over price movements.
"It is more important to achieve at least a four per cent return on investment.
"With the district average stocking rate 12 DSE/ha and fixed costs of $26 per lamb, a sale price over $76 is a profit.
"For producers, averaging $120-$130/head for lambs is pure cream.
"Work out your base selling price and don't be too upset if you miss the price fluctuations.''
Mr Anderson encourages his students to examine forward contracts and how to use them to advantage.
He said a smart marketing strategy was about keeping repeat customers.
Some of the institute's lambs are processed at Junee abattoir to enable students to study the supply chain.
Students also follow the sale of lambs through the Wagga Wagga saleyards.
The 2012-drop White Suffolk cross lambs averaged $105 in January, 2013 and the second draft average $135 the following March.
The 2013-drop lambs sold for $119-$125, and topped at $161 in January.
"The White Suffolk cross lambs mature quickly, there is no bias in the market place for them and our lambs are consistently close to the top of the market,'' Mr Anderson said.
"During the drought, we were supplementary feeding at a cost of $25 to put $50 worth of value on each lamb.
"We can always make money out of sheep – you can't turn the tap on a (dryland) crop if it doesn't rain.''