A White Suffolk sheep flock at one NSW high school is playing a key role in shaping potential leaders for the nation's sheep and wool industry.
The flock at Tamworth's Farrer Memorial Agricultural High School has been introducing young men to the prime lamb industry for 30 years, giving them hands-on livestock skills, self confidence and knowledge.
Year 10 Animal Management students are actively involved in stud breeding decisions and management.
This ranges from routine chores of feeding, vaccinating, drenching and crutching through to genetic selection, artificial insemination, pregnancy scanning, data collection and DNA testing.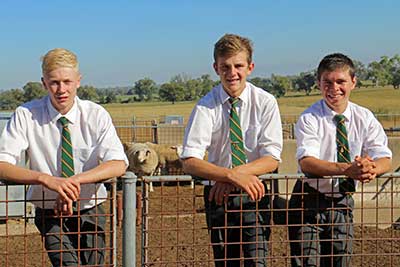 Tom Carlon, Alex Roseby and Charlie Shadwell are directly involved in breeding and management decisions of the Farrer White Suffolk stud.
It also extends to photographing rams, compiling the sale catalogue and conducting the sale each September.
While the Farrer flock has been recognised by Lambplan as having gold quality data since 1997, the sheep are probably among the most studied in the nation, being the focal point for many school assignments from ration formulation to lamb marketing.
Farrer has always been at the cutting edge of objective measurement and performance recording, with last year's sale rams ranked in the top 10 per cent on Lambplan's 2020 index.
Its core role has always been an educational stud, playing an integral part in the delivery of the Year 9-10 wool science program.
The flock's management calendar is structured to fit around the students to ensure they are able to undertake or be directly involved in each and every activity.
This starts with Lambplan testing in January using an accredited operator and selection for the Dubbo Show team.
It culminates with lamb weaning and breeding ewe structural assessment in November, followed by worm egg count sampling of young rams and ewes in December.
Agriculture is a compulsory subject for all students in Years 7 to 10, and an elective subject for Years 11 and 12.
Aside from prime lambs and wool science, students can also study agronomy, beef management, dairying and horticulture.
The boys concede the passion and knowledge Farrer stud master Darren Smith has for the sheep and wool industry is inspiring and motivational.
Tom Carlon, 15, grew up on a Merino stud at Kentucky, north of Tamworth, and was introduced to prime lambs at Farrer by Mr Smith.
The year 10 student enjoys taking his new found knowledge home to share with his family.
"I plan to go back to the farm and work once I leave school – the White Suffolks have definitely taught me a lot about meat quality and Lambplan,'' Tom said.
He has played an active role in collecting blood samples for DNA testing for carcass quality.
Farrer has used the DNA 50K SNP testing for hard to measure carcass traits since 2012.
"The DNA tests give us more information on traits like tenderness and meat quality,'' Tom said.
Year 10 Animal Management students are involved in Farrer's annual White Suffolk artificial insemination program, including semen selection, CIDR insertion and programming, data recording and assisting the AI technician.
Back-up rams are selected after analyzing their Lambplan data and structural soundness.
Students then draft out the sale rams and replacement ewes, along with surplus young ewes for prime lamb carcass competitions.
"Mr Smith guides us in selecting the rams for the annual sale – it's very much our own stud,'' Tom said.
"There's been a few buyers talk to Mr Smith about rams so he passes on the feedback to the class – what we need to aim for and what the market is doing.''
To maintain that commercial focus, surplus ewes are targeted at the Northern Schools Prime Lamb competition, with students formulating rations to ensure animals reach the right fat score and carcass weights.
Fourteen-year-old Charlie Shadwell has the commercial sheep and wool industry firmly in his sights.
The Year 9 student grew up in suburban Dubbo but has embraced agricultural studies since starting at Farrer.
He won the junior fleece judging at the 2014 National Merino School Wether Challenge.
"I'd had no contact with White Suffolks so it's been good to learn about a meat breed apart from wool production,'' Charlie said.
"I'm studying wool classing through TAFE and I'd like to get into something to do with livestock – a little stud of my own would be a good way to start.
"We need to have more programs like Farrer's running at schools to get more young people interested in the prime lamb industry.
"Agriculture is developing and changing, and people are now seeing how important it is from a food security point of view.''
Charlie said a prime lamb mentoring program to help interested youth establish industry networks would be ideal.
"It would teach young Australians it's a good industry to be in,'' he said.
"If you are motivated, you will be rewarded.''
Charlie said a White Suffolk youth group and a greater use of social media could also help spread the message.
"I know Border Leicester over Merino is the traditional first-cross but White Suffolk over Merino is becoming a popular prime lamb option, so we need to get the word out,'' he said.
"We like to support the sheep shows and carcass competitions in the rural areas so people can see the hard work we put into the breed.
"It is great to see the Australian White Suffolk Association encourage schools as we love competing against the other schools at Dubbo Show each year.''
These schools include Yanco Agricultural High School, at Yanco, St Paul's at Walla Walla, Mudgee High School and Red Bend Catholic College, Forbes, with their Lachlan Valley stud.
Charlie Shadwell with a stud ram from the school's show team.
Tom Carlon conceded the success of the Farrer breeding program ultimately depended on how well students tackled the breeding decisions and management duties on a daily basis.
"It is a big commitment out of hours and everyone has to be motivated,'' he said.
"When that ram sold for the record last year, Mr Smith was near crying and all the boys were pretty happy.''