Article by Steve & Deb Milne, AWSA
As many AWSA members will be aware it was announced at the 2011 Australian White Suffolk Association national conference that a recessive genetic condition called Hypotrichosis exists in the White Suffolk breed.  It is not a new condition in the Australian sheep industry with published scientific papers of this condition in the Australian Poll Dorset flock in the 1960's.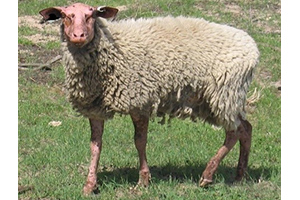 Affected lambs are generally born with little or no hair on the head and legs and develop a thick leathery skin. The symptoms are a result of a recessive gene and both parents must carry that gene for a lamb to be born hypotrichotic.
HH (non-carrier) x Hh (carrier) =
50% non-carriers (HH)
50% carriers (Hh)
NO Hypotrichotic lambs
Hh (carrier) x Hh (carrier) =
25% non-carriers (HH)
50% carriers (Hh)
25% Hypotrichotic (hh)
Given the recessive nature of this condition it can remain hidden for a number of generations, particularly through the female side of the pedigree where little testing is done.  This has recently been emphasised by a young sire, out of an untested ewe purchased at a sale, being tested as a carrier.
The AWSA has never considered this condition to be of any great consequence in the traditional prime lamb industry where White Suffolks are used as a terminal sire.  However, the condition was always seen as a potential problem within the member studs, and with the use of White Suffolks as a maternal sire.  As this practice is becoming more widespread it is timely to remind members of both the condition, the availability of testing for carriers, and the recommendations for testing.
DNA testing for this condition is available at $22 (plus GST) through the AWSA, in conjunction with SARDI.  Since testing began in 2011 approximately 12,000 animals have been tested, with 9% of these proving to be carriers.
To minimise the cost of testing to members the recommendations remain the same, namely to test any sires you use from within your own flock and only use sires and semen from rams that have been tested.  It is also recommended to test any rams you intend to promote or sell as stud sires.  Testing of ewes or flock rams is not recommended because of the cost.  If you suspect that the condition is present in your flock and you are selling into the maternal sector, then perhaps a wider targeted testing program may be advisable.
Further information on Hypotrichosis is available in the members-only section of the AWSA website, and for information about testing please contact the AWSA secretariat.