Juggling carcass with fertility is paying dividends for the prime lamb enterprise at South Australia's historic Mt Schanck Station.
Owned by the Evans family, 3320ha Mt Schanck supports a 2200 British bred cow herd, prime lamb flock, potatoes and dryland cropping south of Mt Gambier.
The prime lambs were introduced three years ago to diversify the enterprise – the flock comprises 2200 Border Leicester-Merino cross and 600 maternal composite ewes.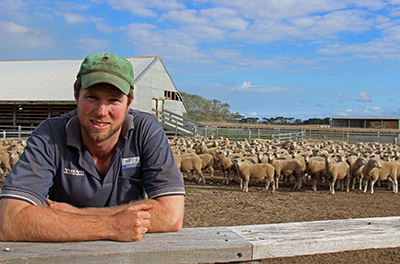 Livestock manager Nathan Reid oversees the prime lamb enterprise at historic Mt Schanck station.
They are joined to Boonaroo White Suffolk, Allendale Poll Dorset and Cashmere Oaklea composite rams for an August lambing.
Rams go in for a five week joining from March 10.
Mt Schanck livestock manager Nathan Reid said ewe lambs were joined at 45kg or seven months of age to easy lambing White Suffolk rams.
"The composites are used to breed replacements while we find the White Suffolk good for lambing ease and clean points, and the Poll Dorsets for weight and growth,'' Mr Reid said.
"Ewes are pregnancy scanned in mid June and split into early or late multiples and singles – empties are culled,'' he said.
"They lamb down in mobs of 400 for the singles and 200 for the multiples.''
Ewes scanned with early multiple lambs are given preferential feed.
"We only keep the ewe lambs out of the early multiple maternals to push fertility,'' Mr Reid said.
"We marked 145 per cent lambs across the whole flock last year.
"The sheep are rotationally grazed in big mobs of 2000 at stocking rates 25 per cent above the district average.''
Lambs are finished on irrigated fodder crops, rape, oats, lucerne, annual ryegrass and clover.
They are turned off at 25kg plus (carcass weight) over-the-hooks at six months of age to processors.
Chiller feedback on carcass weight and yield has been positive.
Mr Reid said fat cover was being maintained on the breeding ewes to cater for tough winters and dry summers.
Shearing is moving from November to May to suit lambing.
The iconic limestone shearing shed at Mt Schanck is a landmark rural building of the Mt Gambier region.
Originally built in 1875, it once catered for 32 blade shearers and now has six operating stands.
It can hold 1500 woolly sheep under cover and has an historic timber drying shed.
The shearing shed forms the backdrop to a new set of Pro-Way yards incorporating a bugle force, adjustable V-race, weigh box, air-operated three-way draft and a 16m double drenching race.
When Nathan, 26, moved to Mt Schanck from Ballarat in 2012, he was unaware of the station's history.
"It was an eye opener seeing the potential of the place,'' he said.
"The volcanic soil here is like nothing else.''