Seasonal conditions this year have been wet in some parts of Australia.  Combined with an extended spring there can be increased feet issues in these regions.  If you have not taken action on your ewes yet then priority should be given to this task as lame ewes do not get pregnant for a number of reasons.
a. Lame ewes graze for shorter periods so are generally in a state of weight loss, thus less likely to be cycling.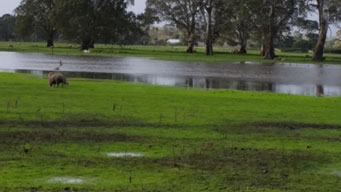 b. Despite contrary beliefs, ewes seek rams, a lame ewe will not seek a ram.
c. Lame ewes cannot physically hold the weight of a ram serving her.
Foot bathing will help clear up scald and sheep with footrot with a small amount of underrun.  Ewes with more severe underrun require antibiotics to have a good chance of making a recovery for joining.  Ewes with abscess only respond promptly to antibiotics.
If in doubt, seek veterinary advice.