By Kylie Nicholls
Quality White Suffolk sires are the perfect match for Merino ewes in the Lyons family's prime lamb enterprise in the western districts of Victoria.
Kym and Julie Lyons, along with Mr Lyons' parents, John and Joan, decided to diversify their wool-growing operation to increase marketing opportunities for their sheep.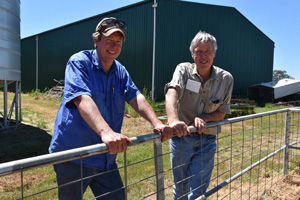 Originally starting with a traditional Border Leicester/Merino-cross ewe, they made a switch to White Suffolks more than 10 years ago for increased growth rates and carcase quality.
Trading as Warooka Pastoral Company, their crossbred flock currently comprises 4000 White Suffolk/Merino-cross ewes, which are run alongside the family's flock of 8000 Merino ewes on two properties at Melville Forest and Gatum, totalling 3000 hectares.
In the Merino portion, the oldest two age groups of ewes, and young ewes not selected for use in the main wool-producing flock, are joined to White Suffolk rams to provide replacement crossbred ewes.
Based on Nyowee and Bundaleer blood, the remaining Merino ewes are run as a self-replacing flock, averaging 18 to 20-micron.
For ease of management, the first-cross ewes are also joined to White Suffolk sires to produce a quality prime lamb.
"With their fast growth rates, quality carcase traits and high fertility, White Suffolks are an integral part of our sheep operation and a good mix with our Merino ewes," Mr Lyons said.
"We get excellent growth rates from the second-cross lambs and achieve a good wool cut from the first-cross ewes and the lambs' wool sells well too.
"They are also a robust, hardy sheep which performs well in our wet, cold conditions and when the season gets tight."
Mr Lyons has been sourcing White Suffolk rams from the Wakefield Park stud, at nearby Cavendish, Vic, selecting high-performing sires that will complement his Merino ewes.
"I look for a high Carcase Plus index of more than 200, a moderate birthweight and positive fat, particularly in rams being joined to the Merino ewes as I think it helps with lamb survivability."
The Merino ewes being mated to White Suffolk rams, as well as half of the self-replacing Merino flock, are joined in late December to lamb in mid-May.
The crossbred ewes and the remaining Merinos are mated in February and will start lambing from mid-July.
All the ewes are pregnancy scanned and separated into single and multiple-bearing mobs so the ewes carrying twins and triplets can be given preferential treatment.
They will be given smaller, more sheltered paddocks with mob sizes of less than 150 ewes to reduce the risk of mismothering.
"This will be the first year I have split the triplet-bearing ewes as their own group. We get about 10 per cent triplets so I think it is worth investigating how we can improve their survival."
Due to this year's late break, Mr Lyons has supplemented the early lambing ewes throughout their pregnancy, trail feeding grain and silage, with rates of up to 3.5 kilograms per head per week of wheat being fed.
"Our supplementation is based on condition score and available feed to ensure they are maintaining weight, we would generally feed up until two weeks before lambing and then taper off."
With a large phalaris-based pasture system, Mr Lyons has also been using calcium supplements which has improved lambing ease and ewe survival.
Lambing percentages per ewe joined average 130pc in the crossbred operation, 105 to 110pc in the Merino flock, with the Merinos mated to White Suffolk rams achieving about 115 to 120pc.
The domestic market is targeted with lambs sold, depending on the season, at a dressed carcase weight of between 18 to 26kg and achieve a meat yield of about 46pc.
All the lambs are marketed over the hooks through Southern Grampians Livestock, with the majority going to Woolworths.
The first-cross lambs are weaned off their Merino mothers about 14 weeks from the start of lambing. They will graze the best-quality pastures and are introduced to lamb finishing pellets in lick feeders to help boost their growth.
The second-cross lambs achieve faster growth rates with the heaviest lambs usually ready to be sold at weaning time. The remaining lambs will also be introduced to quality pastures and self-feeders.
Lambs that have not reached a saleable weight in December will be shorn and grazed on summer forage crops for about four to six weeks. Stubbles are also used to help finish the lambs with the main priority to keep them off the pastures in summer to reduce grass seed contamination.
"We can generally turn off most of the second-cross lambs really quickly, but because the first-cross lambs are out of a mixed group of Merino ewes there can be more variation."
The White Suffolk/Merino-cross ewe lambs are weighed at weaning with 500 of the faster-growing, heaviest lambs selected as the flock replacements.
"They are basically treated as if they were going off to market, they'll go onto better pastures and self-feeders before being shorn in November and joined the following February."
Mr Lyons has also introduced electronic identification (eID) tag technology to collect a range of production data on fertility, growth rates, fleece weights, micron and carcase quality traits from processors.