By Kylie Nicholls
The new Lambplan Terminal Carcase Production index will allow White Suffolk breeders to maximise genetic gains in growth and muscling while maintaining key eating quality traits.
Meat & Livestock Australia Sheep Genetics senior development officer Peta Bradley said the existing Carcase Plus index would be retired in March 2020 and replaced by the new Terminal Carcase Production (TCP) index.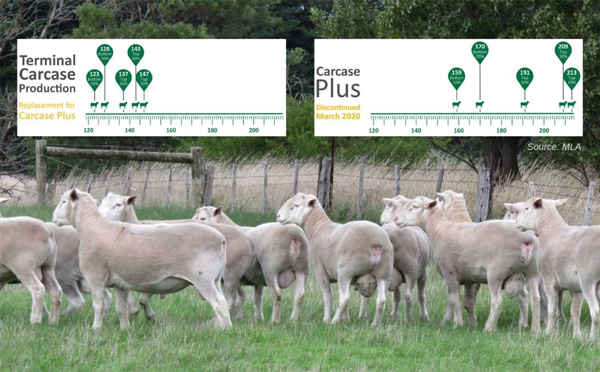 Ms Bradley said the TCP index had been created to help producers achieve gains in key on-farm profit drivers, such as post-weaning weight and muscling, as well as ensuring consumer satisfaction from lamb is maintained by focusing on eating quality traits such as shear force (tenderness) and intramuscular fat (marbling).
"Carcase Plus has been a very valuable index for our terminal production systems over the past 20 years," Ms Bradley said.
"The TCP index is an updated version, it has similar breeding objectives but aims to maintain eating quality.
"Indexes are an incredibly useful tool to make balanced genetic progress and it allows producers to manage antagonistic traits like eating quality and growth much better than if we just look at single traits alone."
For breeders and ram buyers, she said one of the key differences between the two indexes was that the TCP index, unlike Carcase Plus, is an economic index where a unit increase in the index reflects an additional dollar per ewe per year joined.
"2019 will be a transition year so breeders and ram buyers can re-benchmark themselves while both the Carcase Plus index and TCP indexes are available.
"If a buyer was previously buying rams that had a Carcase Plus index of 209 or greater, it would mean those rams were in the top 20 per cent of the terminal analysis, but with the new TCP index, an index value of 143 or higher would represent a ram in the top 20pc."
Ms Bradley also urged White Suffolk breeders to continue to increase the size of their genomic reference population and improve the accuracy of Australian Sheep Breeding Values (ASBVs), particularly for hard-to-measure traits, such as eating quality.
"The White Suffolk breed has a substantial reference population already which means a lot of breeders are able to use genomic technologies," she said.
"We would encourage all White Suffolk breeders to nominate sires for MLA's Resource Flock reference population, as we are looking for genetic diversity of sires represented in the Resource Flock.
"The new genetics website also has some great resources for ram buyers on how to use ASBVs and indexes in their purchasing decisions."