AWSA National Conference Report
Electronic identification may not be the silver bullet but is one of the most exciting developments in the sheep industry.
Livestock production consultant Nathan Scott said under traditional mob based systems, poor performing animals were culled and the best performers retained.
"But, we kick animals out because they've had a birthday and they still may be the best performing genetics,'' Mr Scott said. "When seasons are tough, producers often pick out an age group and sell them.
"If we know the individual performance of each animal, we can drop the poor performers to make the most of the flock's genetic potential.''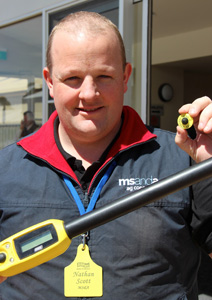 Speaking at the Australian White Suffolk Association annual conference, Mr Scott said electronic ear tags allowed on-farm data collection to be easy, accurate, faster and more likely to happen.
Electronic ID enables the recording of such measurements as body and fleece weight, pregnancy and animal health status.
Mr Scott said four new electronic ear tag options were available with more on the way this year.
Panel readers mounted on the side of a weigh crate or auto-drafter are designed to read individual ear tags when an animal is stationary only.
Mr Scott, of Mike Stephens and Associates, said panel readers must be mounted on timber or plastic to avoid signal interference, or ideally 800mm from metal or aluminium railings.
"If two animals enter the crate at the same time, neither tag will be read,'' he said.
New stick readers from Shearwell, Tru-Test and Gallagher have the ability to upload data including comments of 15 characters on each animal, such as pregnancy status.
"A new phone app called Sheep Counter can record a comment against each animal, and email that data file to your personal computer,'' Mr Scott said.
"Most people buy equipment capable of far too much so if you don't need to display large amounts of data on screen, there is little point in spending a large amount of money on gear,'' he said.
"People also expect to intuitively know how to use it but everything to do with electronic ID is a complex task. It is important to completely read the manual.''
He recommended producers attend TAFE training courses on data collection, equipment, management and use.
Mr Scott said refurbished robust laptops used by the police or defence forces could be bought on-line and were cost effective for capturing data in sheep yards.
Walk-over-weighing has been used for capturing flock and individual data in research trials and has future potential in commercial flocks.
Mr Scott said the system required data analysis and animal training, with water or lick feeders used as an attractant to encourage the sheep to the weigh crate.
MLA sheep research project manager Richard Apps said producers needed to capture and manage data to make better management decisions on-farm.
Mr Apps said efficient walk-over-weighing systems were on the horizon.
"If we move ewes from paddock to paddock we can capture weights so we can rapidly monitor the change of the distribution and average weight in our flock to understand what's happening with nutrition well before we see it,'' he said.
Branxholme White Suffolk breeder Steve Milne is using walk-over-weighing to record Pedigree Matchmaker data as part of the Balmoral Sire Evaulation trial.
Mr Milne said the system used an aerial at the paddock and homestead to continuously capture and transfer data.
"It allows us to keep an eye on the sheep from the kitchen table,'' he said.
-Kim Woods