By Julia Whythes
Taking pride in their flock has paid off for the Douglas family after their White Suffolk heavy lambs broke the Australian record at Wagga last week.
The pen of 77 lambs sold to a whopping $399.20 a head at the Wagga saleyards, snapped up by Fletchers International.
The 11 to 12-month-old lambs, which were the tail-end of the Douglas family's old season lambs, averaged 45 kilograms carcase weight.
But for the Douglas family, breeding sheep they are proud of is just as important as the price, even when it smashes the Australian lamb record.
Ashley Douglas, Cora-Lynn, Kikoira, his partner Kristie Dunlop and his father Eric Douglas run a pure self-replacing White Suffolk flock, and they are getting more passionate about the breed by the day.
The family used to run Merino wethers, but it was around 20 years ago that Eric and Ashley Douglas decided to buy some Merino ewes and cross them with White Suffolk rams.
"I just liked the look of the White Suffolks," Ashley Douglas said. "They didn't have woolly heads, which helped with grass seeds. I like a true-to-type White Suffolk head, with good structure and walks well.
"They have a great temperament, are brilliant mothers and have plenty of milk. We had so many triplets last year and the ewes raised them."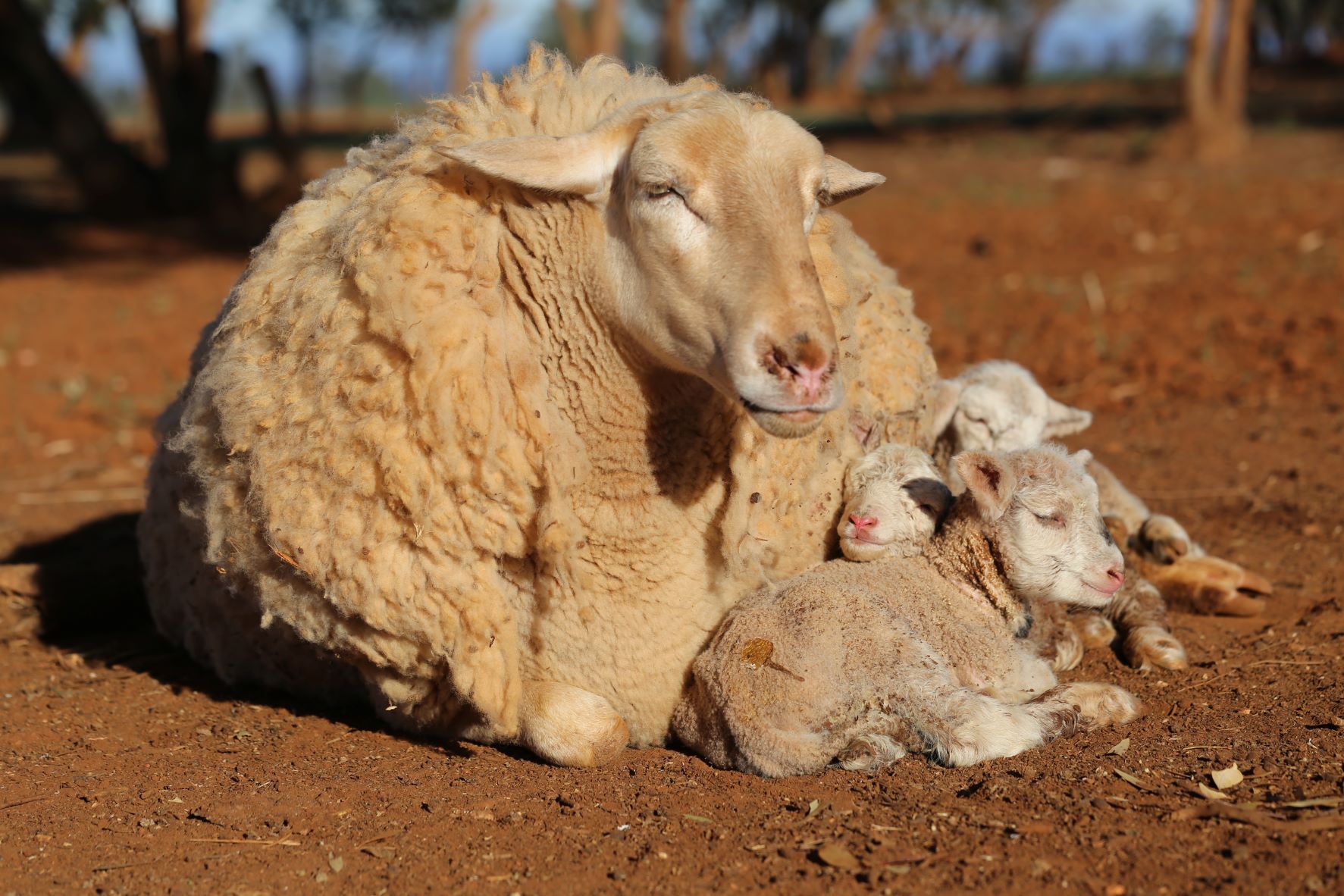 About 14 years ago he started to select the best of his ewes, particularly looking at structure and feet, to cross with White Suffolk rams.
He bought rams from a range of studs and began breeding some of his own White Suffolk rams to slowly produce a pure flock.
He still likes to look around for a particular type of ram, buying from a range of studs and attending the Bendigo Elite White Suffolk Sale each year. And Mr Douglas is passionate about breeding calm sheep, and with his gentle handling, his White Suffolk flock is thriving.
"I like to put pride and presentation into my sheep," he said.
He doesn't use dogs when working sheep, and checks the lambing ewes in a ute, using motorbikes only to muster. He even shears his own sheep.
"I like doing a good job and putting pride into it," he said.
It was when he started shearing the flock himself that the White Suffolk genetics shone through even more.
"Their temperament is fantastic," he said. "And in a dry year, you don't need to crutch them."
The Douglas family's ewes are joined to lamb nine months of the year, avoiding the hot summer months. Older lambs are grazed on pasture as well as having access to oats and barley in feeders, and are shorn depending on when they are to be sold.
They prefer to sell their lambs direct to abattoirs, but also sell through the yards at times.
"I prefer to sell direct to the abattoirs because they are high yielding and you get paid for what goes through," he said.
The White Suffolk lambs are performing brilliantly, often weighing up to 50kg carcase weight. And as far as knocking down the Australian record for lambs, Mr Douglas says he is just as proud of how they perform everyday.
"Selling in the yards, a lot of it is just luck with the prices on the day," he said.
"I'm pretty passionate about the White Suffolks. When I was younger I disliked sheep as much as any young bloke, but the White Suffolks changed my mind and now it is a passion."