Butcher Phillip Groves buys prime lambs (carcass weight 20-25kg and condition score three) out of the local Quoiba (Devonport) saleyards for his Perth butchery, The Sausage Shop.
He also sources White Suffolk lambs directly from a local commercial producer, and has been impressed with the breed's yield, eye muscle depth, reduced trim and enhanced flavour.
Phillip likes to tell his customers the White Suffolk lamb is bred and finished locally.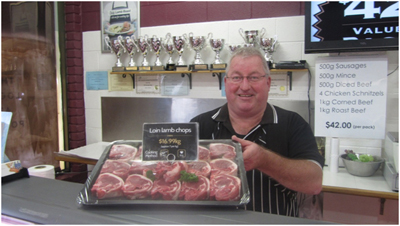 Phillip Groves
Owner and multi-award winning butcher
The Sausage Shop, Perth, Tasmania.
"The White Suffolk lambs yield exceptionally well – we can use all parts of the carcass, even the flap,'' Phillip said.
"We use them not only in our gourmet sausages, but value add with butterfly legs, kebabs, burgers, roasts and other specialty cuts.
"We had a dry spell in autumn when lambs were struggling with nutrition but when the White Suffolks came through they were really good quality – the loin chops look so good on the tray they sell themselves.
"The flavour is beautiful and the tenderness is good.
"When I first started butchering in 1977, everyone bought a side of lamb each week, and they were small things bred out of wool sheep.
"Now it's a specialty meat – I love to eat it, I love working with it and don't want to price it out of the market. When compared to other meats like fish, lamb is still cheap.
"As far as lamb production goes, you can't get any better lamb in the world than in Tasmania.
"We need to keep pushing lamb as a good natural source of protein…and educating the next generation of consumers on how to cook it, using such methods as slow cooking and stir fry.''