White Suffolk lambs have dominated the prestigious Paddock to Plate competition at Tasmania's Campbell Town Show by winning the trade and heavyweight classes on May 31.  The three October-drop heavy lambs entered by John and Kerry McLauchlan, Leith White Suffolks, Westbury, were awarded the T P Jones light trade class (18-21kg) and the Tas Quality Meats heavy trade class (21.1-24kg).
In each section, one lamb was judged as a carcass while the other two were assessed live on the hoof at the show, with equal points awarded for each section. The McLauchlans were also presented with the perpetual Peter Williams Memorial trophy for the highest aggregate point score.
Both live lambs weighed 45.8kg, and were scanned by Chris Parker, of Advance Livestock Services, at 3.5mm of loin fat and eye muscle depths of 36 and 37mm. The three lambs were awarded 147 out of 150 points for live and carcass specifications.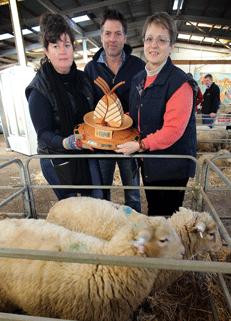 Kerry and John Mclauchlan with Nina Williams, the winning lambs and trophy at the Campbell Town show.  Photo courtesy of Tasmanian Country
Mr and Mrs McLauchlan run 1200 stud and flock White Suffolk ewes, and have previously won the light trade class in 2011 and 2013. Mr McLauchlan said market acceptance of the White Suffolk lamb was high in Tasmania, with most sold direct to processors.His last consignment of October-drop unshorn lambs sold over-the-hooks for $167/head and weighed an average of 26.5kg carcass weight. "We aim for a lot of muscle and shape to breed good supermarket lambs,'' Mr McLauchlan said.
"White Suffolk lambs have done well in this competition and were overall winners in 2011.''