Article by Kim Woods, Outcross Media
White Suffolk lamb producers and finishers proved to be the pace setters in a remarkable period of the livestock industry's history when prices moved into unchartered waters.
Record after record tumbled amid the insatiable processor demand and shortage of heavy stock.
Any quality lambs of killable weight were quickly snapped up as prices skyrocketed to almost $10/kg dressed.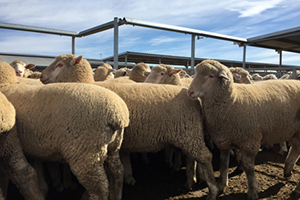 The stellar run was kicked off by Doug Constance, Humula, NSW, with a pen of 168 11-month-old second cross White Suffolk lambs sending the buyer gallery into overdrive at the Wagga saleyards when knocked down to Goulburn Meats for a thumping $276.20 on June 28.
This was around $130 per head more than Goulburn Meats were paying for heavyweight lambs at the same time last year.
Peter and Nicole Beckett, Pleasant Hills, set the Corowa yards, in southern NSW, alight with a new record of $281.60 with their extra heavy White Suffolk cross lambs, averaging 35kg dressed, in July.
In South Australia, culled White Suffolk ewe lambs set a saleyard record at Dublin for vendor Andrew Michael, Leachim Farming, Snowtown.
The grain finished, December shorn lambs eclipsed the previous record price of $242 to finish at $250.
Bendigo in Victoria chalked up a top price of $267.50 in July for White Suffolk cross lambs from Shane and Amber Baker, Booloola White Suffolks, Baringhup.
White Suffolk cross lambs were the first to break the national $300 ceiling at Forbes, NSW, when a pen of 154 White Suffolk/Merino cross sold for $300.60 for vendors Graeme and Joanne Spackman, "Bella", Forbes.
The pen was snapped up by Thomas Foods International and were auctioned by Forbes Livestock and Agency Company.
Agent Tim Mackay estimated the grain fed lambs at 40kg carcase weight.
The Spackmans seconds sold for $300.40 in the same market.
The upcycle continued on August 2, back where it started at Wagga with vendor Doug Constance, Humula, selling White Suffolk cross lambs for $301.20 under agent Isaac Hill, G J Hulm & Co.
The lambs were estimated to weigh 42kg dressed and had a $10 skin.
The market eventually settled at $344 for second cross lambs at Dubbo in September, ending the stellar run for the industry.
In August, 6000 White Suffolk-Merino cross new season lambs (weaned three weeks) offered at Swan Hill topped at $126, with the lead drafts consistently making $100-$120.
Finishing lambs peaked at Bendigo in September when 145 May-June drop White Suffolk cross lambs sold by Tatterstall Bros for $140.
Competition in Tasmania has been strong with mixed sex White Suffolk cross lambs, from Bothwell, topping out at $180 or 790c/kg carcase weight on AuctionsPlus to a mainland processor.
In WA, prices for White Suffolk cross suckers hit $165.50 at Muchea on September 11 for vendors DJ & LM Jupp, Northampton, while G & A Boyle, Quairading, sold White Suffolk cross suckers for $144 in the same market.
Glenlyon Station, Texas, Qld, sold a draft of 610 mixed sex White Suffolk-Merino cross store lambs, April shorn, 11.3kg dressed and supplemented on cotton seed and lucerne hay, for $90 on AuctionsPlus in August.
It wasn't all lambs taking the glory for the White Suffolk breed, with young scanned-in-lamb Merino ewes joined to White Suffolk rams from Boort, Vic, topping AuctionsPlus in August for $170.
The following month, two-year-old first cross ewes with White Suffolk cross lambs from Coolamon topped AuctionsPlus at $309.
According to Meat & Livestock data, the remarkable run in the sheep market can be tracked at the major NSW selling centres of Wagga and Forbes as starting in mid April and peaking on July 31.
At Wagga on April 12, the indicator price stood at a low point of 573.3c/kg CW while at Forbes on April 17 it was 579.7c/kg CW.
The price rose sharply on June 14 at Wagga to 679.7c/kg and at Forbes on June 12 at 6728c/kg, before exploding to 844.5c/kg on July 26 at Wagga, and 893.4c/kg at Forbes on July 31.
The price fell at Forbes to 841c/kg on August 7 before reaching the peak of 928.5c/kg CW on August 21. Wagga reached a high of 930.1c/kg CW on August 30.
Australian White Suffolk Association president Anthony Hurst said the record prices reinforced the meat eating quality and genomics research undertaken by the association over the past few decades.
"The White Suffolk lambs yield well, have length of body and the hindquarter shape for roasts, and the eating quality stacks up well,'' Mr Hurst said.
He said producers joining Merino or first-cross ewes to White Suffolks had a marketable article in the lamb and wool cut from the ewe.
"It is an outstanding cross so those producers are guaranteed to get a return.
"Buyers have the confidence with a White Suffolk cross lamb they will have the growth rates, fat cover and yield to make a good return.''
Mr Hurst said the buoyant prices would enable producers to reinvest in capital infrastructure and genetics.
"It is a win-win for regional communities and the whole agricultural industry, not just us as sheep producers.
"Ram sale clearances in southern South Australia and Victoria have been up on last year and maintaining solid averages.
"Some of the more northern sales in those states have had good averages while clearances are back due to the seasonal conditions.
"While national sheep numbers are down, the lamb and mutton industry will hold firm until we rebuild numbers and get consistency in the seasons around the country.''
Market analyst Simon Quilty, of MLX, Wangaratta, said the future looked promising for lamb following a short-term drought to deal with.
Mr Quilty said the flock size determined lamb and sheep slaughter levels.
"Lambs drop in volume in terms of slaughtering and there is an instant reflection that year in terms of pricing,'' he said.
In 2010, the national flock started to rebuild and reached a point of stabilization.
"Every time the flock drops, and lambs get less and less each year, it's reflected in real time in terms of pricing whereas beef has a delayed pricing effect,'' Mr Quilty said.
"We don't really understand how big an influence the high price for wool is having on the meat production side of the flock.''
On a one-year drought scenario, Mr Quilty said slaughterings would fall as flock numbers diminished, resulting in a rebound in pricing next year.
"If beef prices fall globally, there is a good chance lamb prices will fall globally,'' he said.
"Back in 2011, lamb was close to that crazy 800c/kg or 575USc/kg – we have been here before but we had a currency above parity in 2011.
"Once converted into US dollars, the Eastern States Trade Lamb Indicator has a strong price relationship to global lamb values.
"Sheep meat is closely tied to beef as the two markets move in tandem and at times compete against each other in the same market places.''