Article by Kim Woods, Outcross Media 
Ethically raised, grass-fed White Suffolk lamb is creating a point of difference in a Sydney retail butchering business.
Omeo White Suffolk is the signature lamb brand at Kingsmore Meats, retailing into Sydney's eastern suburbs, Inner West, Botany Bay and Lower North Shore.
The business specialises in local, free range, ethically produced, sustainable nose-to-tail premium meats.
Co-owner Joel Houghton and his staff pride themselves on knowing the provenance of the meat – where it comes from, how it is produced, processed and delivered.
White Suffolk lambing ewes grazing improved pastures on "Omeo''. The purebred lambs are destined for Kingsmore Meats in Sydney. Image Peter Pether.
"At Kingsmore Meats, we specialise in grassfed and free-range meat, excellently butchered and presented,'' he said.
"We source most of our meat from independent local farmers who raise their animals humanely and sustainably.''
The signature Omeo White Suffolk lamb brand is supplied by Peter Pether and Louise Mitchell, "Omeo", Goolma, in central NSW.
The couple began selling purebred lamb to Kingsmore in 2016, sending six to 10 animals per week for processing at Alexander Downs, Kurri Kurri, depending on demand.
They currently run 270 White Suffolk ewes and concede supply can be seasonal as flock building is in progress.
To drive supply consistency, they sourced 97 White Suffolk-Merino cross lambs from the Piliga, in NSW, for finishing on lucerne and clover pastures at "Omeo".
Home grown oats were value added through self-feeders for the lambs, which dressed out at 21kg.
The backstory of the animal welfare practices used to take the animals from paddock to plate are core to the Kingsmore brand promise to customers.
All product must be pasture-raised, hormone, antibiotic and cruelty-free.
Mr Houghton regularly visits the markets at Cambridge EQ and Fox Studios Australia, holds butchering master classes for chefs and spends his days educating consumers on modern values of animal welfare.
He likes to deal directly with producers raising heritage breeds, including pork and poultry.
"The biggest problem with the (metropolitan) consumer is the lack of knowledge of where their meat originates from,'' Mr Houghton said.
"The quality and animal welfare guarantee is important to these farmers and it is bloody hard work – it is not just about the dollar to them.
"A high percentage of (urban consumers) are simply out of touch with how red meat is produced.''
Mr Houghton said consumers were often time poor and increasingly demanded value added meals.
He said most had little understanding of the impact of drought on red meat supply and pricing.
Mr Houghton said it was up to the artisan butchers to educate consumers on the lamb product, using social media including Instagram and Facebook, and trade shows.
"The only voice the farmer has left is the small butcher shops going the extra mile by trying to let our customers know about the welfare of the animals,'' he said.
"We make pies, sauces and reductions to use every part of the carcase – it is hard work and sometimes the rewards are not there.''
Mr Houghton said the business had accommodated the trend to dry ageing meat but the majority of customers were budget conscious families preferring the cheaper cuts.
He receives the White Suffolk lambs as whole bodies at 34kg dressed weight.
They are broken down into French lamb shanks, back straps, rump steak, bone-in lamb shoulder, boneless leg and shoulders, butterflied leg, cutlets, lamb rack, rump roast and rolled lamb loin.
The value added product ranges from lamb pie and meatballs to mince, kebabs, and gourmet sausages.
"This year the carcases have been huge, meaty lambs with the loin chops the size of a veal T-bone, and the bodies weren't carrying as much fat,'' Mr Houghton said.
"The Omeo cutlets are the biggest sellers.
"We use every part of the lamb carcase – the bones are sold as dog bones – and when it comes to the offal and sweet breads, we work with a nutritionist catering to consumers on paleo diets.''
Mr Houghton has been butchering for 32 years and now owns two retail outlets employing five staff.
He said retail butchers had to reinvent their businesses over the past decade to compete with the supermarket trade.
"If you had of told me when I was 24 I would now be selling milk, making pates, preparing cooked food and paying $11/kg for lamb it would have been madness,'' he said.
"But the industry has changed so much over the last 10 years.
"We employ a chef to prepare cooked meat for pies, ragout, bolognaise, pasta and even pre-cooked organic chicken nuggets.
"All of my staff are a wealth of knowledge when it comes to cooking and my manager is a food scientist.
"It is our knowledge and butcher's background that creates the point of difference.''
Mr Houghton said the expectation of convenience by urban consumers had placed much stress on retail butchers, with seven day and 24 hour on-line trading.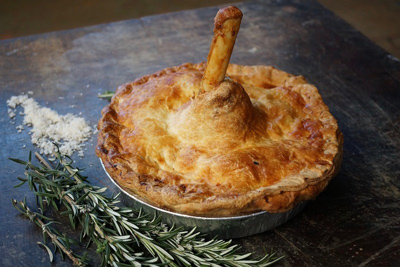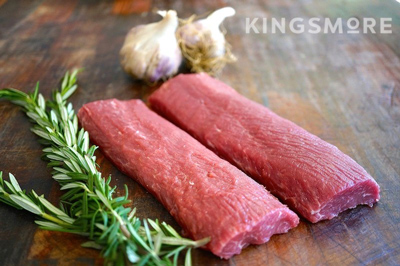 The carcase feedback from Kingsmore Meats helps Peter Pether and Louise Mitchell fine tune their ram selection and breeding objectives.
Peter's father Norm Pether played a role in the formation of the White Suffolk breed as principal of Farrer Agricultural High School at Tamworth, NSW.
Norm and his wife Betty had their own stud flock on the property, "White Suffolk Farm'', near Tamworth, and later sold the flock to Godfrey and Irene Darling.
Later, Peter and Louise acquired the flock back from Godfrey after discovering it was for sale and relocated it to "Omeo'' where the sheep are now managed by Dick Norris.
"Dick is a bit of an animal whisperer and loves the stock – they are very well looked after,'' Peter said.
"In 2016 we had a great year selling purebred grassfed product – the lambs were a real smash at Kingsmore but we had to supplement with hay and grain last year when seasonal conditions deteriorated.
"We send 10 lambs a week to Kingsmore for sale through the shop front and on-line delivery business.
"The ewes lamb in July-August, with the weaning and turn-off being variable to accommodate demand from the shop.''
Peter likes the early maturity and growth rates of the purebred lambs, and fertility in the ewes with 130 per cent lamb marking rates.
"The ewes are good mothers and milkers, and the lambs are prolific growers,'' he said.
"In the past we sold lambs as suckers at Dubbo – now they are turned off at heavier weights progressively in batches.
"Regular small rainfalls over the past weeks resulted in oats and lucerne kicking off, and our dependence on bought-in hay and oats is lessening.''
Although Peter purchased the flock for sentimental reasons, he is thrilled with the past focus on carcase and meat eating quality.
"I'm wrestling with the weighting between cattle and sheep as the sheep market is promising, so to get feedback on carcase weight and flavour from the butcher and consumers that it is a great product encourages me to expand the flock,'' he said.