A focus on young breeders is one of the plans for the Australian White Suffolk Association after its long-awaited national conference.
After a three-year hiatus due to COVID-19, around 100 association members, speakers, industry representatives and school student breeders from across the country descended on Albury to celebrate and plan for the popular breed's upcoming year.
The conference meant a changing of the guard for the Association, with Ian Gilmore, Baringa stud, Oberon, elected as President. Mr Gilmore took over the reins from Andrew Heinrich, Ella Matta Stud, Parndana, SA, who had the challenging role of navigating COVID during the past two years.
Peter Angus, Maroola Stud, Mallala, SA, was elected as Vice President.
A highlight for many was hearing from 20 school students from Yanco Agricultural High School and St Paul's College who run their own White Suffolk studs.
The students play a huge role in ram selection, mating choices, undertaking artificial insemination (AI), lamb marking, attending shows and exhibiting, marketing and selling their stud rams.
This was a highlight for conference convenor Paul Routley.
The Almondvale stud principal said the mix of breeders, from older stud producers who had bred White Suffolks for decades to young people just getting started, was fantastic.
He said the Association was keen to support school initiatives.
"The students were ecstatic with how they were received," he said.
"The Association takes great pride in the youth and nurturing them - they are the future breeders."
He said having major sponsors Zoetis and Rural Bank at the conference, as well as conference sponsors MLA, Alltech Lienert, Elders and Nutrien, was a big benefit.
He said animal health and nutrition was a focus, with Dr Matthew Playford from Zoetis and Matthew Hallam from Nutrien presenting.
Dean Bellingham, Shearwell Data, presented on electronic NLIS tagging as NSW and SA look to roll out mandatory eID tagging.
"It gave us the whole perspective of the industry," he said.
Another highlight was guest speaker Kerry O'Keeffe, former Australian cricketer and current cricket commentator for Fox Sports, who shared his favourite moments in his career.
Incoming President Mr Gilmore said the Association was keen to promote White Suffolks even more.
"The White Suffolk has versatility, whether it is as terminal or maternal sires," he said.
He said the conference was a great opportunity to share updates on the breed's second satellite flock project.
Steve and Debbie Milne, Richmond Hill Agribusiness, announced that the Association is currently participating in its second round satellite flock for eating quality in carcase traits, hosted by the Anden White Suffolk stud, with AI completed in January.
"We will be very keen to see the results - we have sourced genetics that are relevant to as many breeders as possible."
Mr Gilmore is looking forward to the year ahead, especially with the focus on youth.
"This is the first time the Federal Council has implemented a youth committee, with a delegate in nearly every state. It is exciting for the breed to work with students and young breeders," he said.
"It was nice to see the enthusiasm and positive input from the younger generation."
For some breeders, this was their first time at a national conference.
This was the case for David Lieschke, Otto stud, Walla Walla.
Mr Lieschke and his wife Helen have been breeding White Suffolks since 2017.
"We bred them because we liked the ease of lambing and good lambing percentages. They also have good weight gain," he said.
Heading to the conference was a priority for the Lieschkes because of their 17-year-old son Tom.
"Tom is very keen on sheep work and is involved in the stud," he said.
"It was a good chance to ask questions and get updates on the breed, as well as meeting other breeders."

Students from St Pauls College & Yanco Agricultural High School attended and shared the active role they play in their school White Suffolk stud breeding programs.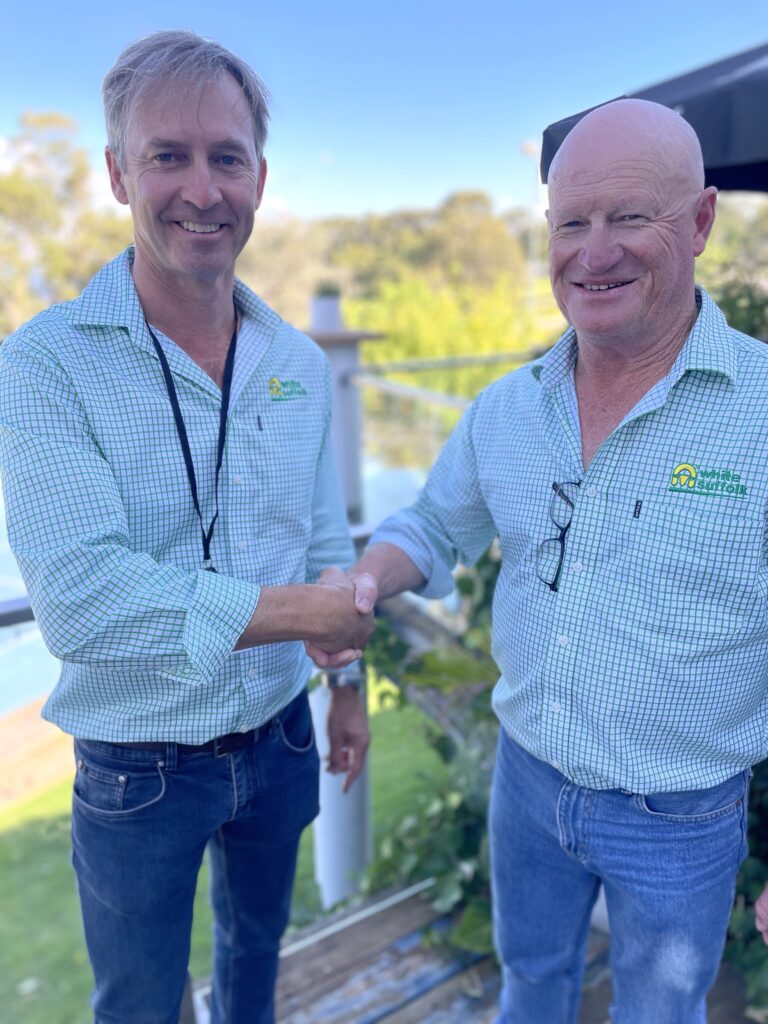 Incoming Vice President, Peter Angus, Maroola Stud, SA, congratulating Ian Gilmore, incoming President, Baringa Stud, NSW.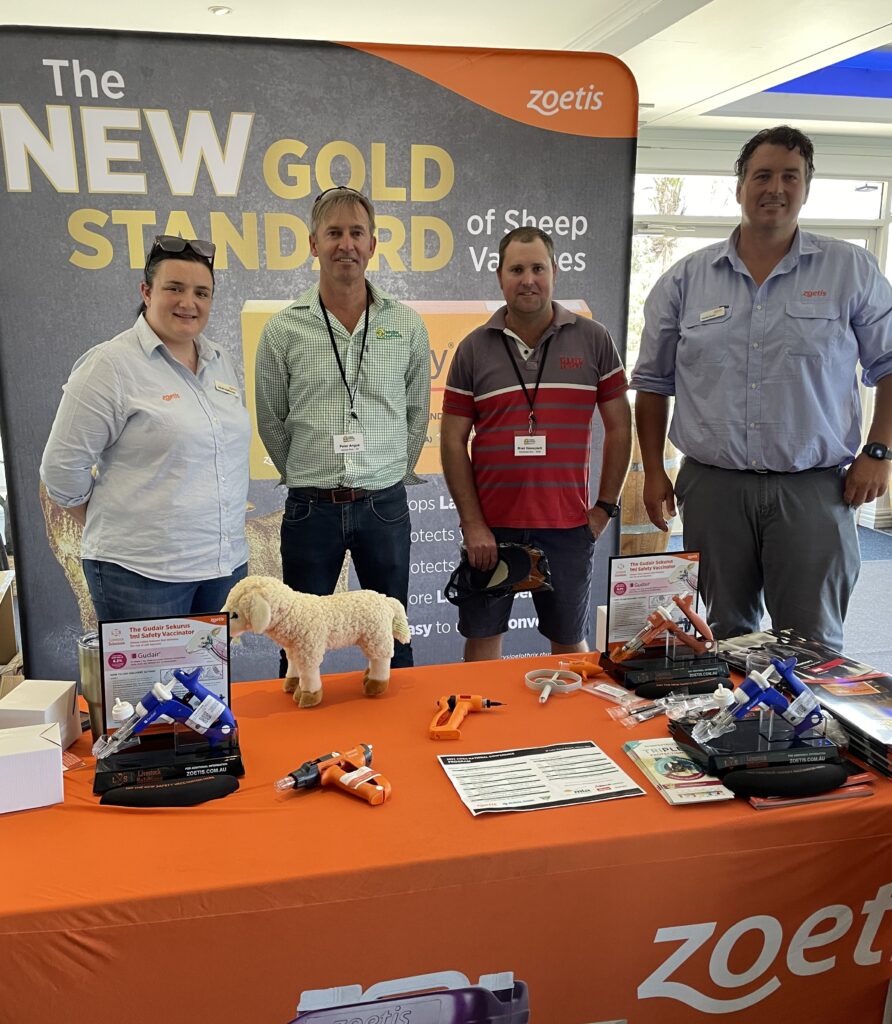 Major sponsor, Zoetis, attended the conference. Pictured L-R are Sarah Heffernan (Zoetis Rep), Peter Angus (AWSA Vice President), Brad Honeysett (AWSA Councillor) and Daniel Guest (Zoetis National Marketing Manager).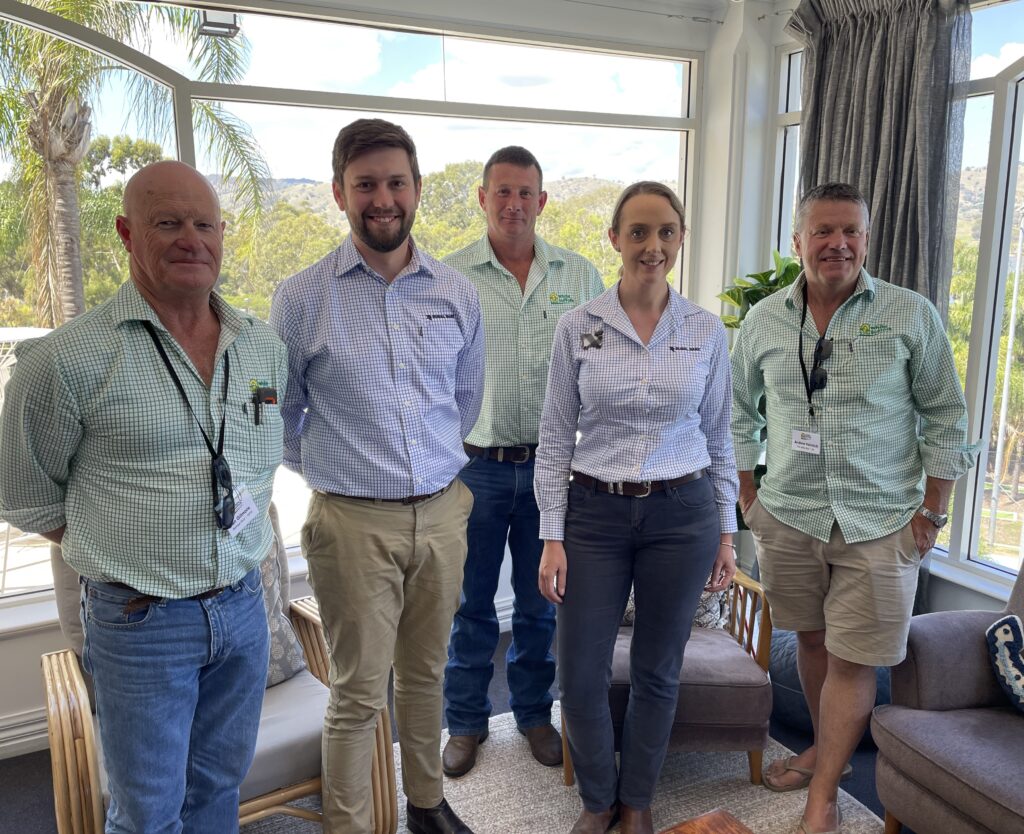 Rural Bank representatives at the Conference included Michael Curtis and Kate Shepherd, pictured with AWSA Councillors Ian Gilmore, Anthony Hurst and Andrew Heinrich.
Paul Routley (Conference convenor), with Dean Bellingham (Shearwell Data) who spoke on NLIS and eID roll out across Australia. 

AWSA members Karen Denis (Kurrabi Park Stud, SA) and Janet Gall (Wilson's Creek Stud, NSW) catching up at the Tuesday evening dinner. 
AWSA members, Lochie Gilmore (Baringa & Premier Studs, NSW) with Daryl and Brad Honesett (Honeyoaks Stud, NSW).