Lambing ease and great yield percentages are just some of the reasons Greg Fisher has been using White Suffolk sires over his Merino ewes for more than fifteen years.
Mr Fisher, and his partner Jackie Fogarty, run 4300  Merino ewes on their 5000 hectare Clover Ridge property in Marcollat, SA.  Each year they mate 3000 ewes to Border Leicester rams, with an additional 800 self-replacing Merino ewes and 500 first-cross ewes mated to White Suffolk sires to produce second-cross prime lambs.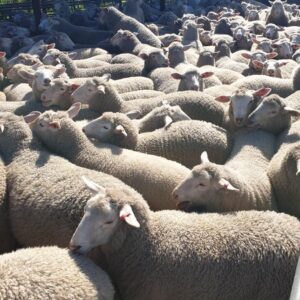 Previously a wool enterprise, Mr Fisher changed his operation to first-cross lamb production in the late 1990s because he felt it better suited their country.
Their main focus is on producing first-cross ewe and wether lambs for the annual blue-ribbon sales in Naracoorte with the remainder kept and joined to White Suffolk rams to produce second-cross prime lambs.
"The change to first-cross ewe and wether lambs and second-cross prime lambs has provided us with a more profitable return and flexibility depending on the season."
"The first-cross ewes are exceptional ewes, they have high fertility and are excellent mothers, but for those that are retained in stud, we wanted to boost early growth rates so we were able to get them to selling weight and turn the lambs off quicker," he said.
We did our research and the lambing ease and great yield percentage we were continually seeing with White Suffolks was a perfect fit for our first-cross ewes.
Mr Fisher sources his White Suffolk rams from Seriston White Suffolk stud. He uses Australian Sheep Breeding Values (ASBVs) to aide his selection with an emphasis on structurally sound rams with good growth and carcase traits.
Ewe are joined in November with the second-cross lambs born in mid-April.
This year they have achieved a lambing percentage of 125 percent and marking percentage of 123 percent, with lambs marketed over the hooks to Coles for their supermarket trade.
"We sell our lambs off mum in mid-August at 14 to 16 weeks of age at an average dressed weight of 23 kilograms."
"Obviously, prices are dependent on the market, but we consistently achieve a great yield percentage with our second-cross lambs."
He said their Merino-White Suffolk cross lambs averaged a rewarding return of $222 in 2019.
"This year's lambs are looking great and we are looking forward to seeing how they sell in the coming weeks."
Mr Fisher believes sourcing good quality rams that match well with their first-cross ewes is the key to producing a consistent lamb product and achieving a good return.
"If you can produce a consistent, quality product you can have the confidence it will sell in any season."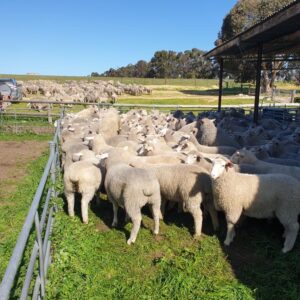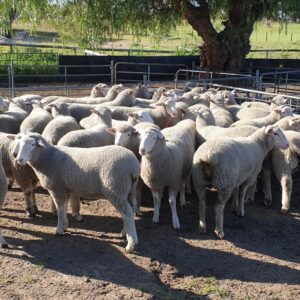 Clover Ridge Pastoral White Suffolk second-cross lambs at 14 to 16 weeks old weighing 47 to 64 kilograms.